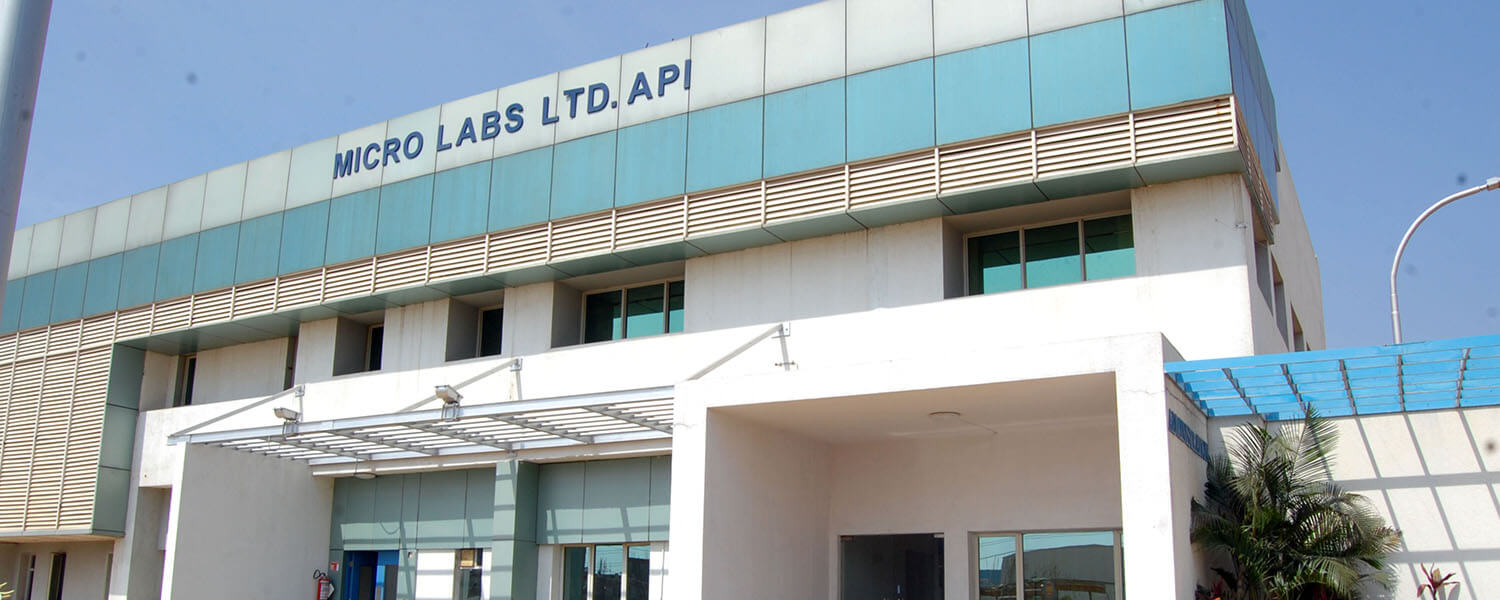 API
At Micro Labs, we are dedicated to developing top-of-the-line pharmaceutical products while adhering to the highest quality norms by the well-qualified and renowned research team. The continuous strive for perfection has led us to push our standards of manufacturing by building state-of-the-art facilities. Today these state-of-the-art manufacturing facilities and infrastructure facilitate Micro's Organic Growth in the regulated markets. Our vision to create a Vertically Integrated Organization offering a broad spectrum of products with a competitive edge in global markets has led us to set up of very own API Manufacturing facility.
Micro Labs API Unit is built over an area of 24000 square meters with a world-class manufacturing facility. GMP-compliant requirements have been strictly followed in the construction of the API manufacturing unit. The total strength of 280 employees plies their trade at the API manufacturing unit including technical & scientific staff of ~200 employees that comprise engineers, pharmacists, science graduates, and other technical staff.
"API Unit is a backbone of any Pharmaceutical Industry to provide quality & affordable medicine to mankind. We produce APIs with environment-friendly chemistry and non-infringing innovative processes."
API unit facilitates the robust production of APIs in therapeutic areas such as anti-hypertensive, diuretic, anti-malarial, anti-diabetic, ARV, anti-inflammatory, and ophthalmology. A full-fledged pilot plant supports the scale-up activity of all new developments. The plant is designed to handle cryogenic, high-temperature, and high-pressure reactions. The Commercial, Pilot Plant and Kilo Lab is equipped with a finishing area that meets modern-day production standards. The Company's Quality Management System is designed to meet the CGMP requirements as per ICH Q7 and EUCGMP Part II guideline and US21CFR 210, 211. The site has been accredited by international pharma regulatory agencies like USFDA, EDQM, ANSM & TGA, etc.
We are aiming to increase our global presence in API markets focused on Research-based product development. To encourage & support the innovation in Micro Labs; the API unit boasts a strong Research & Development Centre (DSIR Approved) nurtured by the research team of 150 scientists that comprises engineers, science graduates, recipients of prestigious Doctorates from premier institutes/universities. The R&D center is a star addition to the company's glittering profile. The state-of-the-art R&D Centre equipped with advanced cutting edge analytical instruments like High field NMR (FT-400MHz), ICP-MS, LCMS-Ion Trap, P-XRD, Ion Chromatography, FTIR, GCMS, GCHS, UPLC, HPLC, Flash Chromatography, Lyophilizer, Preparative LC, DSC, TGA & many more. For Micro Labs, the API R&D Centre is a strategic addition in our foray towards a global arena. An impressive R&D Centre with a Kilo level Scale-up Lab facility is one of the key features of the unit, which enables to development of high-value and low-volume APIs. The modern facilities are a perfect complement to the talent of our product development team. The research team can express their true potential, which in turn helps Micro Labs to cater its products for the global market.
The R&D division and Kilo Lab facility of the API manufacturing unit devote all their energies and are constantly engaged with the exploration and development of APIs & NICHE molecules with multi-step Chemical synthesis. Key focus areas include
1. Development of Innovative & non-infringing routes for API's of global standard
2. Creating core competency in select therapeutic segments involving innovative chemistry
The API R&D Centre has developed strong skills in the identification of non-infringing routes supported with the IPR [Intellectual Property Rights] cell thereby creating an 'IP capital' for the company.
This unit has been envisaged to provide a competitive advantage for our international business efforts by providing strategic APIs involving economical & environmentally friendly processes.
The Unit has been carefully designed and further strengthened using procedures and practices to remain compliant with applicable statutory requirements. The site is accredited with ISO 14001 and OHSAS 18001.